Day 3 Highlights From The 2018 Volcom Pipe Pro
DAY 3 OF VOLCOM PIPE PRO OPENED UP WITH SOLID 6-8 FOOT WNW SWELL AT PIPE AND BACKDOOR, PROVIDING COMPETITORS WITH EXCELLENT SURF ALL DAY
February 2, 2018 – Friday morning welcomed the Volcom Pipe Pro with a solid swell that held from the evening before, opting for perfect Pipeline and Backdoor offshore barrels. The swell throughout the morning was relentless with non-stop high-scoring waves dropping from the very first heat of the morning. Jack Robinson wowed the crowd with multiple keepers, most notably, a 9.07 Backdoor barrel where he had to pump inside of the tube to make a clean exit:
As we continued through Round 3, we saw great scoring waves from guys like Evan Valiere, Elijah Gates, Mason Ho, Ian Walsh, Brent Dorrington, Koa Rothman, and more. But with great rides, there are bound to be crazy wipeouts, and there were. A handful of surfers packed some heavy closeout barrels and some ended up resorted to the dreaded late-pin-needle air drop.
Koa Smith started off Round 4 in his usual fashion, dropping a 9.27 and 8.87 to comfortably advance to Round 5. Joan Duru also packed an impressive 8.57 on a late-drop Backdoor barrel and backed it up with a solid left at Pipeline to secure his spot in the next round. But it was Cam Richards who stole the show on his backhand with two incredible tube rides at Backdoor. While down in the count with just under 11 minutes to go, Cam nabbed a clean 9.83 then quickly followed it up with a perfect 10-point ride. If you look closely, you can see Cam let go of the rail in the barrel which shows his extreme comfort he has with this wave:
We finished off the day with Heat 6 of Round 4 to an incessant flood of waves and great conditions. We saw Jack Robinson pick up right where he left off and scored an 8-point ride on his first Backdoor attempt and followed it up with a near-perfect score of a 9.93, juggling between a foam ball and super deep positioning on the wave:
Saturday looks to be another epic day of surfing with the swell holding in size and competition continuing to heat up! Check back tomorrow morning on Volcom.com/pipepro at 7:15am HST for the official call!
ROUND 4:
H1: (1) Koa Smith, (2) Joan Duru, (3) Kyle Ramey, (4) Josh Burke
H2: (1) Billy Kemper, (2) Ian Crane, (3) Kiron Jabour, (4) John Mel
H3: (1) Cam Richards, (2) Aritz Aranburu, (3) Manuel Selman, (4) Cody Young
H4: (1) Ian Gouveia, (2) Noa Mizuno, (3) Dwight Pastrana, (4) Raoni Monteiro
H5: (1) Evan Valiere, (2) Masatoshi Ohno, (3) Tomas Tudela, (4) Elijah Gates
H6: (1) Jack Robinson, (2) Joshua Moniz, (3) Hank Gaskell, (4) Imaikalani Devault
ROUND 3:
H1: (1) Josh Burke, (2) John Mel, (3) Kaito Kino, (4) Matthew Macgillivray
H2: (1) Billy Kemper, (2) Kyle Ramey, (3) Liam O'Brien, (4) Love Hodel
H3: (1) Cody Young, (2) Noa Mizuno, (3) Makuakai Rothman, (4) Skip McCulough
H4: (1) Dwight Pastrana, (2) Manuel Selman, (3) Ryland Rubens, (4) Facundo Arreyes
H5: (1) Evan Valiere, (2) Hank Gaskell, (3) Diego Mignot, (4) Dylan Goodale
H6: (1) Jack Robinson, (2) Elijah Gates, (3) Alonso Correa, (4) Olamana Eleogram
H7: (1) Mason Ho, (2) Nomme Mignot, (3) Ulualoha Napeahi, (4) Luke Gordon
H8: (1) Robson Santos, (2) Jacome Correia, (3) Makai McNamara, (4) Yage Araujo
H9: (1) Ian Walsh, (2) Alvaro Malpartida, (3) Reef Heazlewood, (4) Sunny Garcia
H10: (1) Mitch Parkinson, (2) Joaquin Del Castillo, (3) Harley Ross, (4) Kaito Ohashi
H11: (1) Brent Dorrington, (2) Finn McGill, (3) Torrey Meister, (4) Reo Inaba
H12: (1) Koa Rothman, (2) Cristobal De Col, (3) Anthony Walsh, (4) Shun Murakami
H13: (1) Riley Laing, (2) Jeronimo Vargas, (3) Gatien Delahaye, (4) Keijiro Nishi
H14: (1) Jamie O'Brien, (2) Lahiki Minamishin, (3) Lucca Mesinas, (4) Ethan Osborne
H15: (1) Kalani David, (2) Nic von Rupp, (3) David do Carmo, (4) Danny Fuller
H16: (1) Weslley Dantas, (2) Jordy Collins, (3) Noah Beschen, (4) O'Neill Massin
VLCQ WINNER: JAMIE O'BRIEN
ROUND 2:
H1: (1) Matthew McGillivray, (2) Kyle Ramey, (3) Shayden Pacarro, (4) Wyatt McHale
H2: (1) Love Hodel, (2) John Mel, (3) Cole Houshmand, (4) Kala Willard
H3: (1) Makuakai Rothman, (2) Ryland Rubens, (3) Miguel Blanco, (4) Sean Woods
H4: (1) Facundo Arreyes, (2) Noa Mizuno, (3) Jhonny Corzo, (4) Christopher Kervin
H5: (1) Evan Valiere, (2) Alonso Correa, (3) Jason Shibata, (4) Colt Ward
H6: (1) Olamana Eleogram, (2) Hank Gaskell, (3) Kai Lenny, (4) Kaimana Jaquias
H7: (1) Ulualoha Napeahi, (2) Jacome Correia, (3) Martin Jeri, (4) Tristan Guilbaud
H8: (1) Yage Araujo, (2) Luke Gordon, (3) Kainehe Hunt, (4) Logan Bediamol
H9: (1) Sunny Garcia, (2) Harley Ross, (3) Luke Shepardson, (4) Kekoa Cazimero
H10: (1) Joaquin Del Castillo, (2) Ian Walsh, (3) Andrew Jacobson, (4) Joh Azuchi
H11: (1) Finn McGill, (2) Anthony Walsh, (3) Charly Quivront, (4) Gabriel Morvil
H12: (1) Koa Rothman, (2) Brent Dorrington, (3) Ezra Sitt, (4) Kade Matson
H13: (1) Keijiro Nishi, (2) Lahiki Minamishin, (3) Jake Kelley, (4) Bruce Irons
H14: (1) Ethan Osborne, (2) Riley Laing, (3) Eliott Napias, (4) Eli Olson
H15: (1) Kalani David, (2) Noah Beschen, (3) Keoni Yan, (4) Cory Arrambide
H16: (1) O'Neill Massin, (2) Danny Fuller, (3) Adrian Garcia, (4) Shaun Burns
ROUND 1:
H1: (1) Kyle Ramey, (2) Kala Willard, (3) Isaac Stant, (4) Ian Gentil
H2: (1) Makuakai Rothman, (2) Noa Mizuno, (3) Sheldon Paishon, (4) Tom Dosland
H3: (1) Jason Shibata, (2) Kai Lenny, (3) Ryder Guest, (4) Edrick Baldwin
H4: (1) Ulualoha Napeahi, (2) Kainehe Hunt, (3) Chris Foster, (4) Cole Alves
H5: (1) Sunny Garcia, (2) Ian Walsh, (3) Michael O'Shaughnessy, (4) Nathan Florence
H6: (1) Anthony Walsh, (2) Ezra Sitt, (3) Kai Mana Henry, (4) Kelson Lau
H7: (1) Lahiki Minamishin, (2) Eliott Napias, (3) Luke Adolfson, (4) Eala Stewart
H8: (1) Kalani David, (2) Danny Fuller, (3) Mikey Bruneau, (4) Dante Silva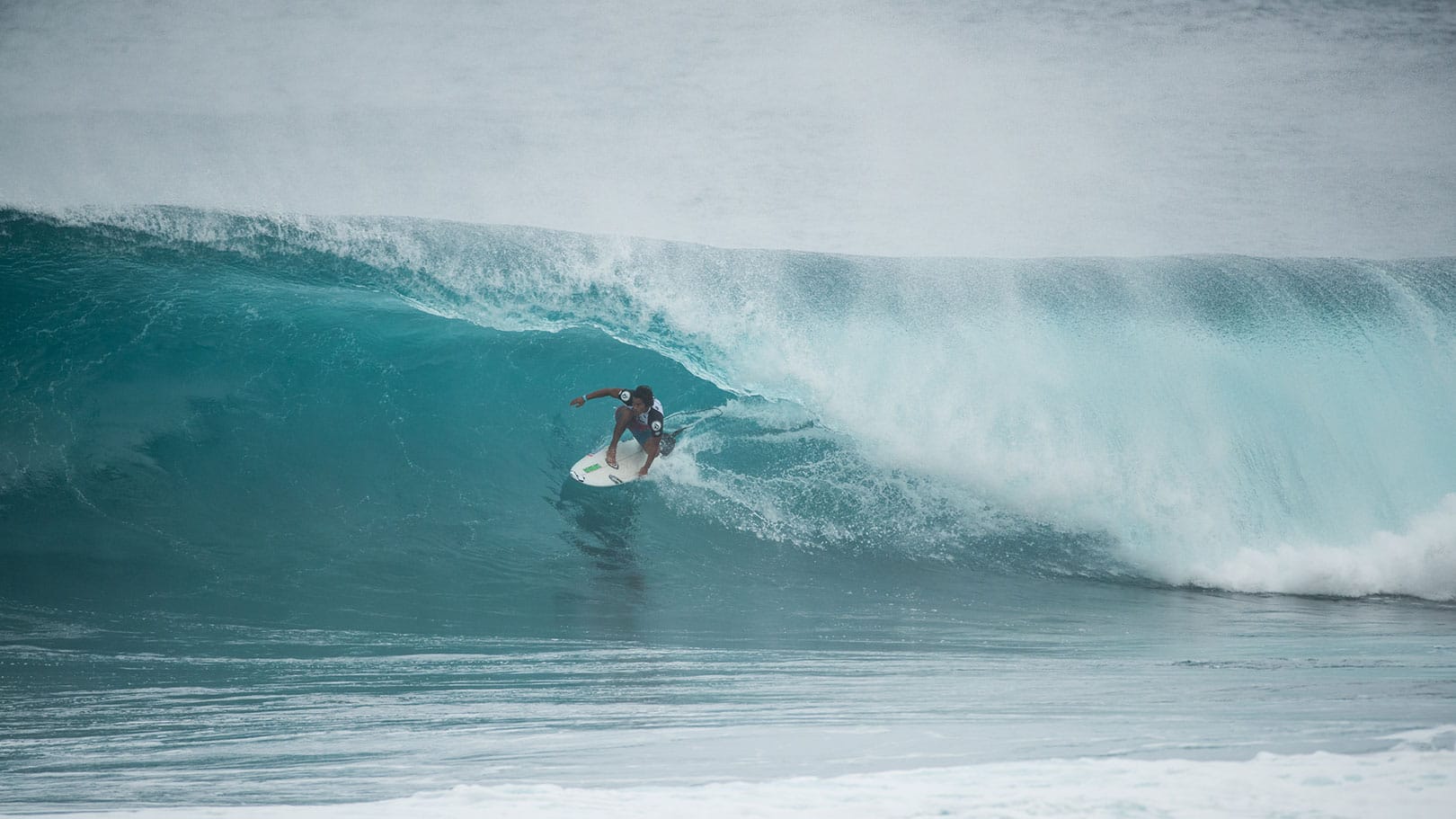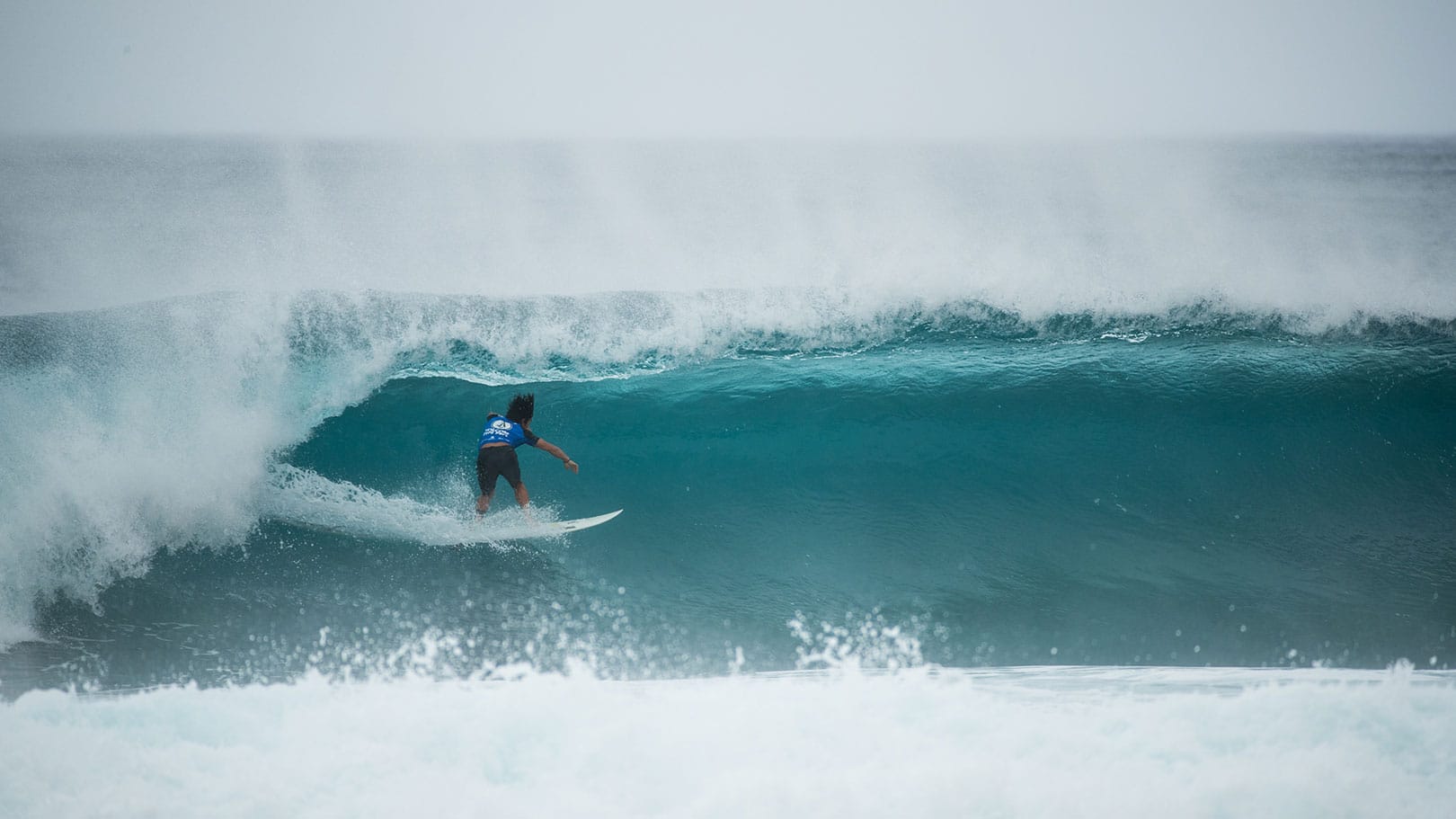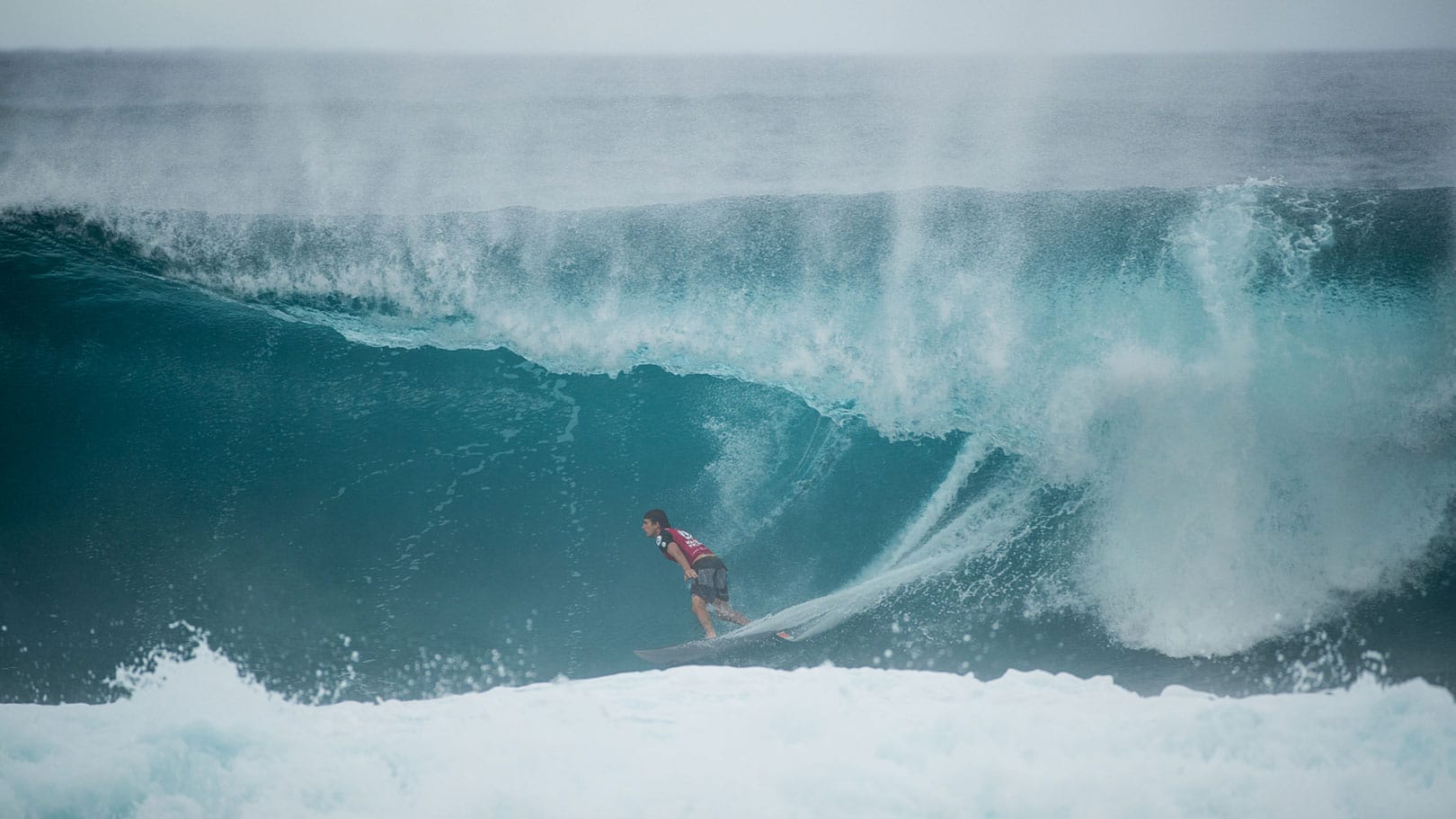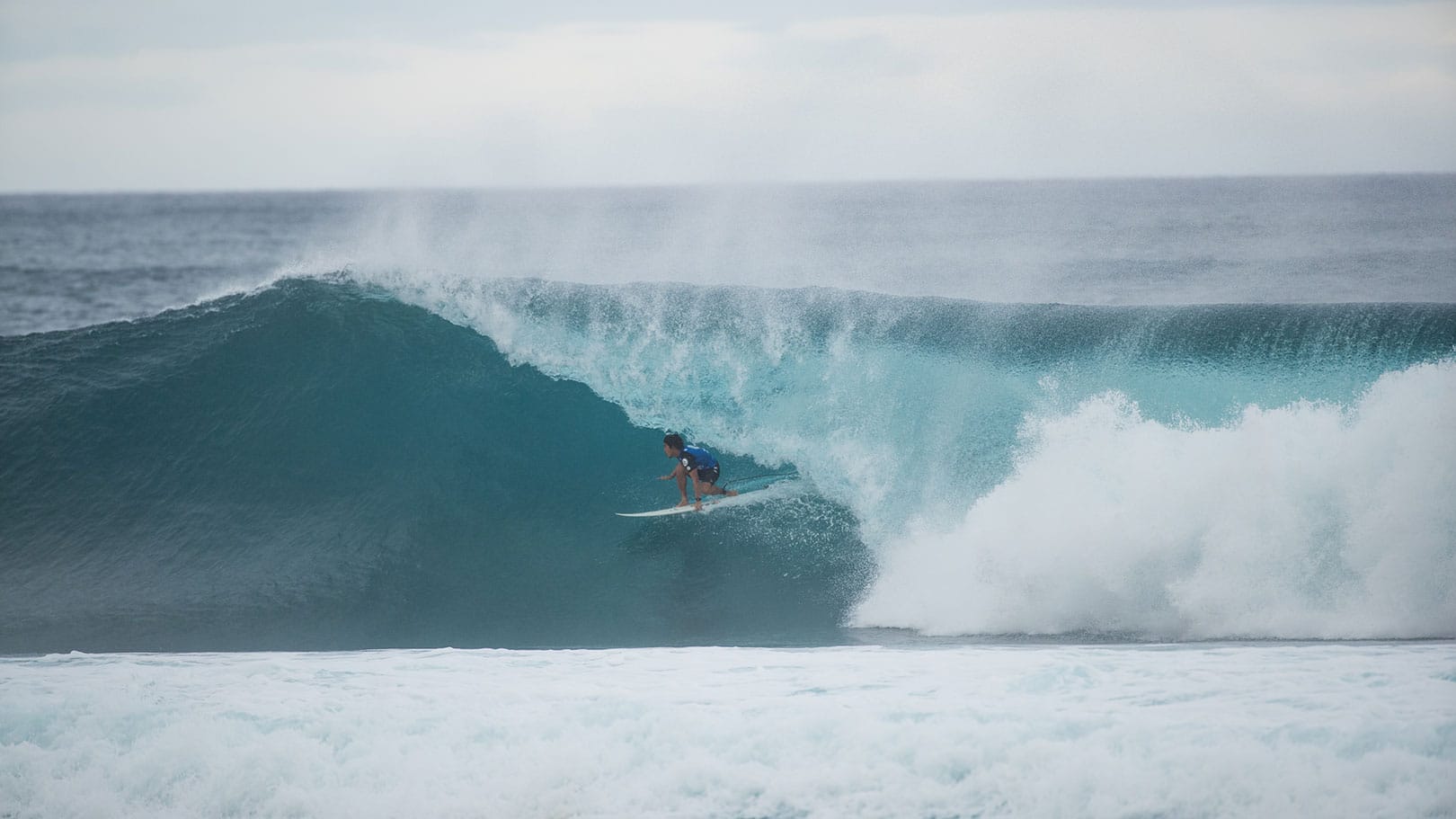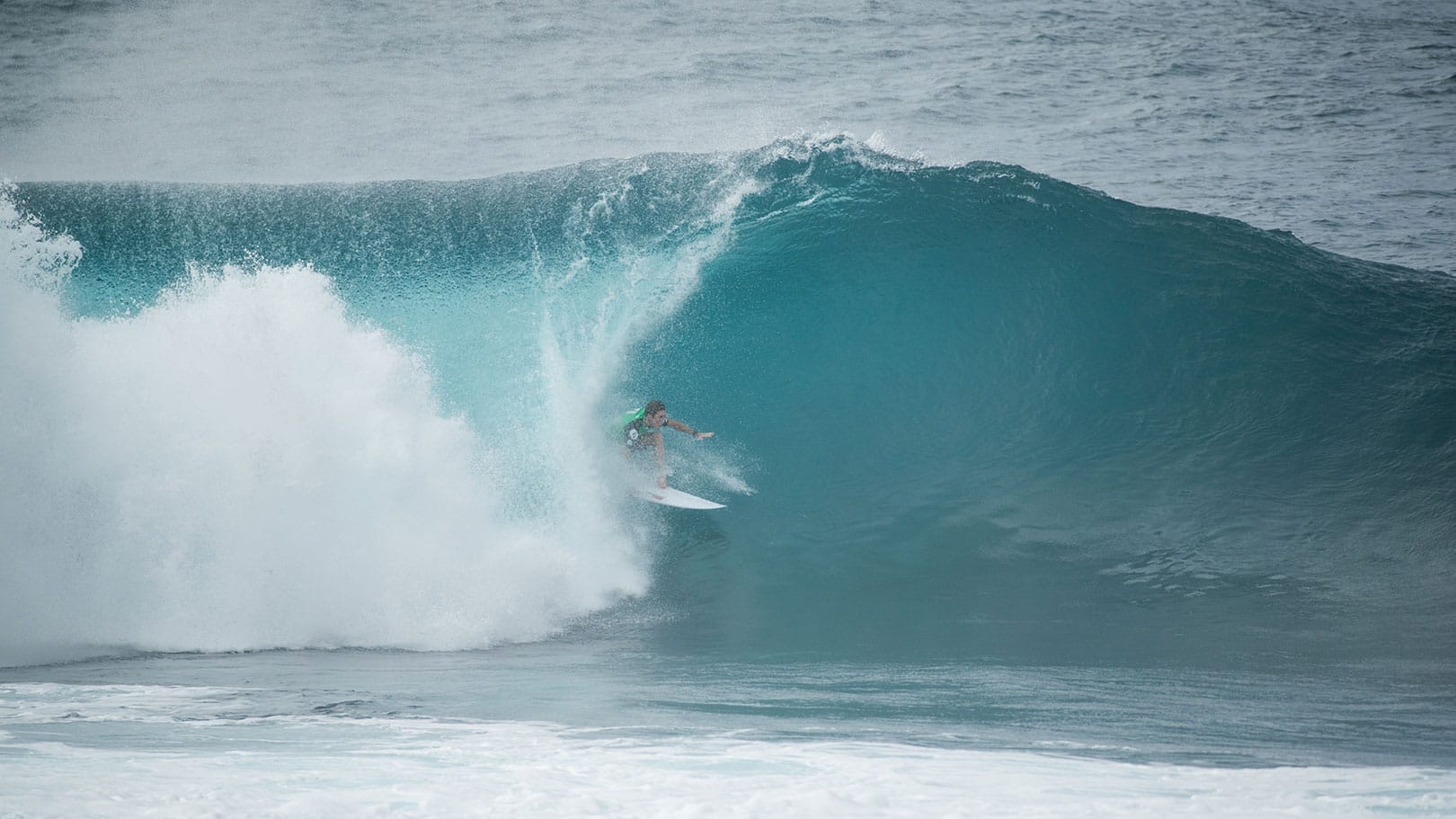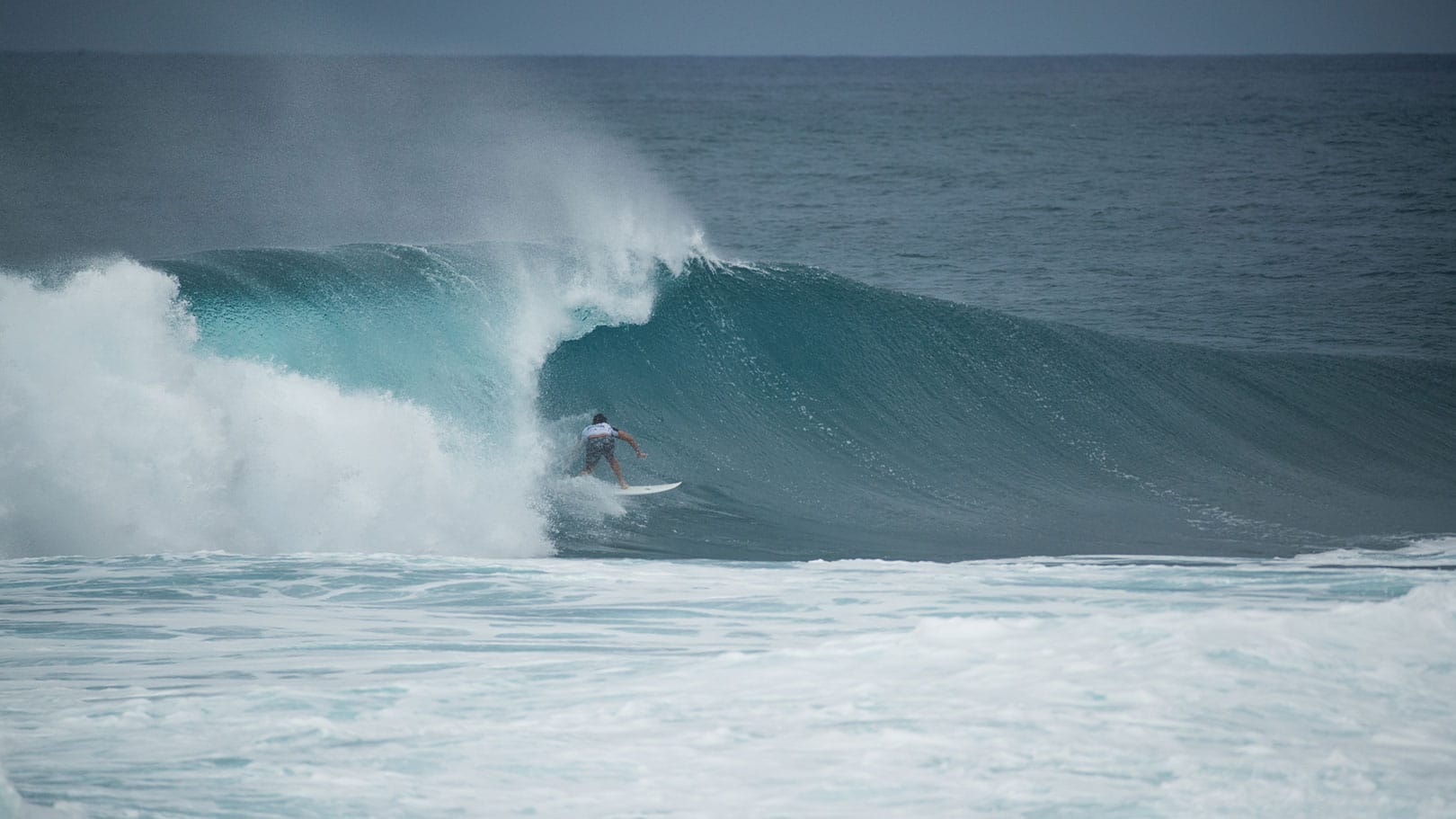 Keep cruisin'
Related content