The Sea, Surf and Surrealism With Artist, Marissa Quinn
MARISSA QUINN TAKES OVER THE WOMEN'S BLOG!
Meet Marissa Quinn, one of our favorite female artists of the moment and the first to take over our blog for the day! She caught our eye on the Instagram scene a few years back so when there was an opportunity to work with her, we jumped at the chance. Since then, our relationship with her has grown stronger than ever and we still work with her every chance we get. Read on to get to know one of the most talented, humble and kind hearted artists out there.
MEET MARISSA
Hey guys! My name is Marissa Quinn, and I am a full-time artist from Encinitas, California. I have both a Bachelor's degree in Fine Art and a Master's Degree in Fine Art, and am now an Adjunct Professor of Drawing 1 at Point Loma Nazarene in San Diego. (I know, I look like I'm 16 haha!)
I live in a little studio loft in a neighborhood on the cliffs overlooking a beach that I have loved since I was little. When I'm not working on art, online art coaching or teaching, I am in the water with my sea sisters!
My art is a blend between traditional drawing, illustration, and watercolor. I am heavily inspired by the rich history of biological illustrators such as Audubon and Ernst Haeckel, and I love vibing their style in my work while creating surrealist or dreamlike twists of impossible moments into the pieces.
"Heartbeats of Great Mother" by Marissa Quinn
Most of my work portrays different endangered species or current environmental issues in order to educate and inspire people into living conservation lifestyles. The pieces are often a blend of land and sea, illustrating the interconnectedness of all life on earth.
While each piece contains a specific environmental message, I also use the subjects of the drawings as symbolic characters telling stories from my personal life and experiences.
"Connection In-Between" by Marissa Quinn
"Ground of Being" by Marissa Quinn
In addition to my fine art, I love collaborating with brands on design work for products or lifestyle shoots! I have been working with Volcom Women's on various Instagram campaigns for a little over a year now, and I love the creative energy!
Their most recent split-tee is brilliant! I am always on the hunt for unique graphic tees to throw on while I'm working in my studio, so I'm really digging these!
WE CALL EACH OTHER "SEASTERS"
This summer I got back into surfing, which I had stepped away from when I was in art school in LA. After living in a traffic jam for seven years, I am now happily planting my roots back in my hometown in Encinitas where I am connecting with women who surf and find strength in the sea! We call each other "seasters" :) Together, we are creating a community of female creatives who empower each other, and right now we are on the hunt to establish a co-working space near the water in order to work and host workshops or events!
Another side hobby of mine is creating custom board designs by painting directly on the foam before glassing. The board you see in these photos is mine, and is all painted by hand on foam in the shape of an inlay. I am hoping to produce a line of board lams soon while also hand painting more boards! Hit me up if you are interested!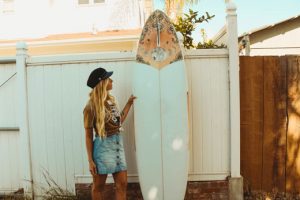 I work with a shaper named Nathan Crewdson @ncshapes, and we can create a board shaped to your surfing goals!
You can find me on Instagram, @marissaquinn, which is where I post most of my work and process. You can also visit my website, www.marissaquinn-art.com to see my portfolio or to sign up for online art coaching or workshops with me!
I also have a Facebook, Marissa Quinn Art, which I am working to develop into more of an art community this year.
"Diluvium" by Marissa Quinn