Hi-Dutch, Yusuke Hanai, James Mcmillan, Tim Kerr, Michael Sieben Art Show At Volcom Garden: Me & You & You & You
WHERE
Volcom Garden
1209 E. 6th St., Austin, TX
Regular Hrs: Thu-Sat 2-9pm
WHEN
Opening Recption:
April 7 | 7-11pm
Show ends May 5
ME & YOU & YOU & YOU IS AN ART SHOW AT THE VOLCOM GARDEN CURATED BY ARTIST / MUSICIAN TIM KERR AND FEATURES ARTISTS FROM JAPAN, AUSTRALIA, AND LOCALLY HERE IN AUSTIN, TEXAS
I've known (and respected) Tim Kerr for over 15 years now, and when he approached me about putting a show together at The Garden I said, "Anytime you want." Well, that time is now, and the show he put together is titled: "Me & You & You & You." Rather than try to explain Tim's curatorial decision-making process for this show, I thought I'd just hit him up and get the story directly from the source. Thanks, Tim! —Michael Sieben
If you can't make the opening reception on April 7, the art will still be on display at The Garden through May 5, so be sure to stop by! For store hours and information, visit the store page.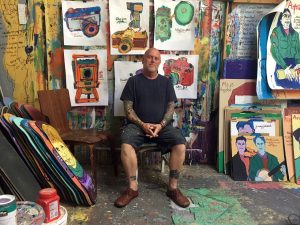 There is also an exclusive Tim Kerr Volcom Garden Artist Series tee that was made for this event that you'll want to grab before it's gone forever! Keep scrolling for a Q&A with Tim Kerr and a look at each of the artists in this upcoming show.
How did you decide who was going to be in this show?
TIM: Yusuke and Hi-Dutch are friends from Japan, and they wanted to come to Texas and do a show or two. That was the seed. Because they are coming from such a long way, I wanted to try and do it at places that had regular hours instead of call-for-appointment type places. The Volcom Garden and my friends that do Neighborhood in Dallas were the perfect spots. I asked you to be in it because you're a cool dude, like them, that does cool art, like them. And you know, what the hell (smile). I am also asking James McMillan to be part of the show for the Volcom leg. Another cool dude that does cool art from Oz. That's Australia, not that green place that Dorothy and her crew were at. Although, Byron Bay where he lives is pretty green.
Your approach to art-making and art, in general, is very much rooted in the DIY spirit. Does that ethos come from your background in music?
TIM: The idea that you could and should start a band or a fanzine, or make art, or posters, or take photos, or make clothes or just BE there—be present in that community of people—most definitely had an impact on me and the way I live my life. 
What do you hope the audience takes away from this exhibit?
TIM: Maybe a painting or two (smile), but even better would be an idea that sets them and their friends off on their own self-expression celebration. 
Any advice for the kids or adults out there that want to be included in art shows themselves?
TIM: Clear off a wall in your house or garage—OR just go out on a street corner one weekend afternoon and do your own show or a show with you and your friends. Have a yard sale that's your art—even better if it's you and your friends and their friends. You might just start a whole new scene that folks will be talking about 20-30 years later.
TEXT "GARDEN" TO VOLCOM (865266) TO GET UPDATES ON EVENTS, EXCLUSIVE PRODUCT, AND MORE!