Bryan Iguchi
Research Tested Collection
Developed and extensively tested in collaboration with backcountry enthusiast Bryan Iguchi, The Research Tested collection is purpose-built for touring missions in the backcountry, where your outerwear is put to the ultimate test.
Bryan Iguchi's "Research Tested" collection features a stretch GORE-TEX outerwear jacket and pant as well as backcountry slack vest. Focusing on breathability, mobility and ventilation essential to comfort and performance while touring, Guch assembled a collection of backcountry snow gear that meets these needs head on, and offers advanced fabrications and crucial tech features necessary for serious self-propelled adventures in the alpine.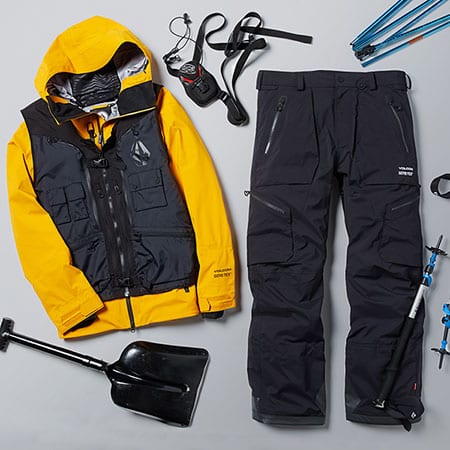 "My biggest epiphany of the demands of the mountains, in being prepared, really came from when I was 23 years old. I was in Wolf Creek, Colorado, on an early season photoshoot. We ended up getting lost in the woods. Just hiking around sidecountry. I wasn't really prepared for a night out. Ended up hiking until, basically, sunset, then we had that realization that we have to stay put and and get through this night because if we keep going we're going to get lost and become exhausted. So, we had to come up with a plan and spend the night and build a fire. That was the heaviest impact of having to be forced to spend a night in the mountains with whatever you had on your back."
From that point on, I really had a fascination and focus on being prepared and having the right gear.
It was that fascination and focus that informed his Research Tested Collection, especially the collection's signature piece the backcountry "Slack" vest.
Now in it's fourth generation, the Slack Vest's initial design process started with Guch seeing a major flaw in the way he was managing his backcountry gear when accessing the backcountry with snowmobiles. He noticed that he would ride with the sleds to a spot, backcountry packs loaded with food, water and extra gear, but then dump the packs for most of the day, and shuttling and riding without shovels and probes would ensue. It's bad protocol and he wanted to figure out a way to make sure he always had his basic rescue tools at all times. To him, the vest was a solution to this problem and it could function and be a part of his everyday outerwear kit. Its low-profile design allows you to wear it while riding on chair lifts, in the cat, car, heli, etc.
Who and what type of riding is this vest for? It was designed for backcountry riders who want a low-profile way to carry and organize their gear. It works good for a pretty wide range of riding styles and experience levels. We've put in endless days wearing the vest and found it great for ski and snowboard side-country laps, snowmobile access, cat skiing, heli, car shuttle rope road runs, and even the boot packer short days split boarding.
Keep cruisin'
Related content